Transcriptions: Writing
'Transcriptions: Writing' is a project inviting MA Creative Writing students from Birkbeck, University of London, to write a short fiction response to a National Gallery painting.
Moroni: 'The Tailor'
Ilona Jesnick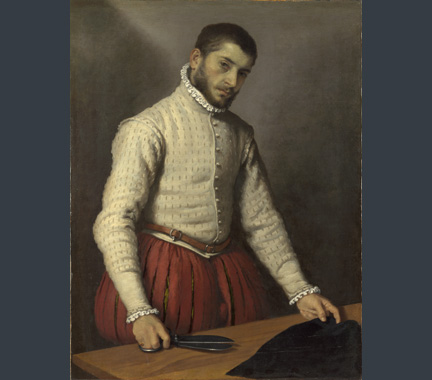 I am an adept, an alchemist of cloth; a master cutter. I'll transform this fabric from black nothing to a fashionable garment in the blink of an eye. First, one swoop of my heavy shears divides the cloth. Then, with a dash I cut in the curves and darts to make it hang like it grew on you.
You require slashes Messir? My shears can snip them row by row, exquisitely fine, regular as a cohort of soldiers.
You want it tomorrow? No problem. My sons will sit cross-legged all night, basting and hemming, while my daughters embroider black on black by candlelight till their eyes water. My wife will sew the thick, shiny buttonhole thread into a sunburst of tiny, neat stitches for each of a dozen buttons. Her aching hands are as calloused as mine, her eyes as poor. But you have come to the best place Messir.