Transcriptions: Writing
Transcriptions: Writing is a project inviting MA Creative Writing students from Birkbeck, University of London to write a short fiction response to a National Gallery painting.
Hammershøi: 'Interior'
Elizabeth Sarkany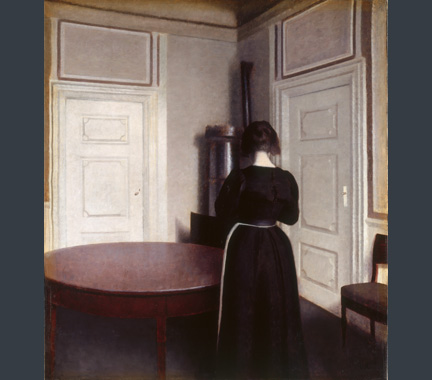 It began as a burning in the centre of my chest that slid like hot liquid under my ribcage. The main thing is not to wake my husband. He is an artist. His state of mind is delicately balanced. So that first night with the pain, I lay on my back in the dark, afraid to move. I felt my thready heartbeat tapping, then stopping too long, as though I could be found dead in the morning.
Fresh air might help, but these spring days the park is cluttered. I keep doors and windows closed. I can be still, like sunlight on a pool that would be fragmented by just one drop of water.
I prepare beeswax to polish the table to a shine. I move slowly. I am careful. My husband is an artist. His eye sees every detail. We both know our places. We work purposefully, without conversation.