Transcriptions: Writing
'Transcriptions: Writing' is a project inviting MA Creative Writing students from Birkbeck, University of London, to write a short fiction response to a National Gallery painting.
Manet: 'Corner of a Café-Concert'
Angela Wray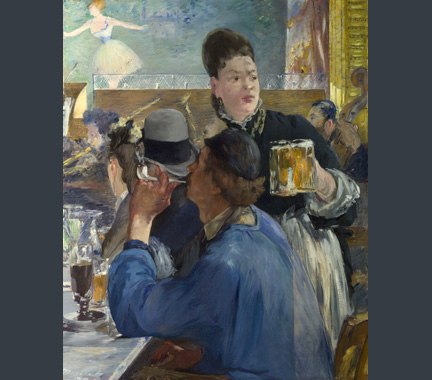 Papa called me his 'jolie laide', but to Maman I was the lumpen one. I wanted to be a dancer, but Maman would laugh at me and say I was too clumsy so I carried on with my studies. I loved mathematics. Even that did not please her and after Papa died she said she could not afford to keep me at school.
I became a waitress at one of the new cafés-concerts, where the men ignored me except to snap their fingers for drinks. It was always busy there, but whenever possible I would watch the dancers and wonder how it must feel to be so admired. In my spare time I studied and eventually I won a scholarship to university. Now I am a professor and fêted by my peers. I often visit the café where I used to work and wonder what happened to those young dancers.