Transcriptions: Writing
'Transcriptions: Writing' is a project inviting MA Creative Writing students from Birkbeck, University of London, to write a short fiction response to a National Gallery painting.
Zurbarán: 'Saint Francis in Meditation'

Alison Huntingdon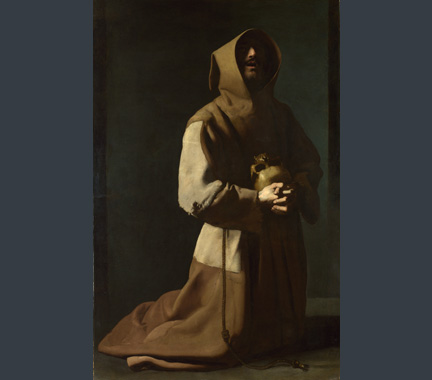 The great artist has made me a shadow. He likes me on my knees. He dwells on my frayed habit, my hands pressing some stranger's shining skull full of nothing.
He allows me a mouth that I may try to make my sound, to tell the beauty and colour of a life simply lived to the audience of a breathless, empty cell.
He allows me a nose, that I may be tortured by the absent scent of earth and roses.
But my creator cannot look me in the eye.
He has taken away all that made sense of this world. He has taken away the animals and birds and sky and grass and sea, the sweet open air. He has made me disappear beneath a shell of stiff felt flesh.
I am wondering why he would force me to leave the world I love.
I am trying not to hate. But I am failing.