Flight: Drawing Interpretations
A multi-disciplinary art project which draws inspiration from the National Gallery collection.
Flight: Drawing Interpretations brought together a group of practice-led researchers working across a range of disciplines at the London College of Fashion (LCF), to consider the theme of Flight within the context of the Gallery.
The project outcomes are displayed online alongside a Friday Late showing of performances and temporary installations at the National Gallery on 14 June 2013. This was preceded by a special showcase [External link] at LCF on 24 May 2013.
The complete work and curatorial project can seen at  http://flightdrawinginterpretations.com
The project was art directed by design studio She Was Only, with photography by Paul Bevan and Daniel Caulfield-Sriklad.
Background
The Gallery has always aimed to support and inspire young artists working across a variety of disciplines. Over a period of a year, a number of informal 'show and tell' meetings took place both at the Gallery in front of the paintings and at LCF, to see what new ideas and creative practice might emerge. The sharing of working methods, in which drawing formed a key aspect, was central to the project. These inspired intellectual and creative journeys, evidence of which can be seen in the selection of artworks created.
The project was initiated by Charlotte Hodes, Professor in Fine Art at London College of Fashion and Colin Wiggins, Special Projects Curator at the National Gallery.
Curatorial Statement
The collaborative project Flight: Drawing Interpretations is characterised by two main parallel challenges. From an artistic perspective: responding to the paintings of the National Gallery collection and on a curatorial level, contextualising the new responses within a different space – one which is both virtual and actual.
The stylised National Gallery floor plan was the starting point for our curatorial approach, presenting an opportunity for a reflection on curating itself. Gradually abstracting from the original Gallery space, we have outlined a virtual map for the artworks created by the participants.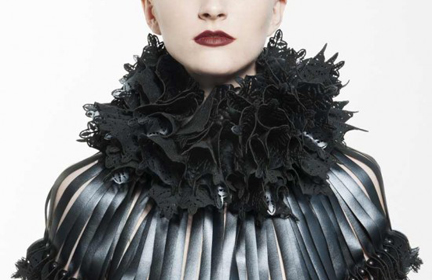 Curators
Dr Flavia Loscialpo
Flavia's research interests focus on historical and contemporary avant-gardes in art, design and fashion. She is specialised in curation, philosophy of language, aesthetics, and fashion theory.
Fiona Mckay
With a focus on interpreting the ideas around fashion and design into both physical and digital spaces, Fiona's curatorial practice demonstrates a convergence of interests in fashion artefacts, personal histories and digital technology.
Ben Whyman
Ben has curated fashion exhibitions in London and the United States, as well as publishing work on film, contemporary art and fashion. Recent research has considered curatorial interventions using dress to improve engagement with marginalised groups, specifically those living with mental illness.
Work
Charlotte Hodes, 'Apparition', a series of papercuts inspired by The Soul of St Bertin Carried up to God (about 1459) by Simon Marmion and The Mond Crucifixion (1502-03) by Raphael
Natalie Brown, 'Stitch in the Air', neckwear inspired by Rembrandt's Portrait of Phillips Lucasz (1635) and Portrait of Aechje Claesdr. (1634).
 
Andrew Kenny, 'Ode to Colin Wiggins', film and embroidery. Inspiration: Portrait of a Woman (about 1525) by Lucas Cranach the Elder and A Nymph by a Stream (1869-70) by Pierre-Auguste Renoir.

Carolina Rieckhof, 'Samson's fears', installation and sculpture. Responding to Samson and Delilah (about 1609-10) by Rubens.

Jessica Bugg, costumes and performance in collaboration with Fukiko Takase (Random Dance Company). Film by Tim Keeling. Inspiration: The Tempest (about 1862) by Peder Balke.
 
Xenia Capacete Caballero, 'Weaving Nests'. Tracing the Invisible, film and sound piece in collaboration with cellist Juliet Sampson and artist Nabil Ahmed. Inspired by A Wall in Naples (about 1782) by Thomas Jones.
 
Simon Thorogood, 'Coruscation', film projection, inspired by Mountain Landscape with Lightning (about 1675) by Francisque Millet.
 
Yuliya Krylova,' Leda's Womb', costume and performance drawing from Leda and the Swan (after 1530) after Michelangelo. A collaboration with Butoh choreographer Marie Gabrielle Rotie.

Paul Bevan, (Up) 'In the Air', a film responding to An Experiment on a Bird in the Air Pump (1768), by Joseph Wright 'of Derby'.

Agnes Treplin, costume and performance 'BODY and SOUL', in collaboration with Andrew Hawkins. Inspired by Guercino's The Dead Christ mourned by Two Angels   (about 1617-18).

Caroline Collinge, 'Unfolding the box', costume and performance drawing from A Peepshow with Views of the Interior of a Dutch House (about 1655-60) by Samuel van Hoogstraten. Cellist soloist and chamber musician Li Lu (Concordia Foundation).
Project supported by the Arts Council England and University of the Arts London Student Enterprise and Employability
Image above: Detail of a photograph from the film 'Drawing with the Body and Cloth', Dr. Jessica Bugg 2013. Photographer: Roy James Shakespeare. Dancer: Fukiko Takase.