Resources
Tours and trails
Audio tours for children, such as 'Art Detectives' and 'A Right Royal Tour', can be found on Level 2 of the Sainsbury Wing and at the Portico Entrance (£).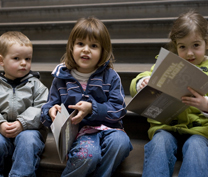 Printed trails such as 'Pause, Imagine, Play' can be found at the Getty Entrance.
Most trails can be printed off at home. You can also customise and print off your own route at the ArtStart kiosks located in the Espresso Bar on Level 0.
We also provide paper and pencils – these are available at all Information Desks.
Find out more about family tours and trails
Blind and partially sighted visitors
'Painting Stories' is a book designed for blind and partially sighted young people aged 7–11 studying Key Stage 2. This fun and interesting picture book provides access to a selection of works from the National Gallery with Braille, feely pictures and audio CD.
Join author Jacqueline Wilson as she brings famous paintings to life and take a behind-the-scenes tour of the Gallery with the people who work here.
Find out how to borrow a copy [external link]
Find out more about facilities and services for visitors with access requirements
Next: Other tips