Corporate Membership
Corporate Members enjoy significant benefits with privileged access to the National Gallery's unrivalled collection and major exhibitions
Entertain your clients in the company of great masters
The Gallery houses more than 2,000 works spanning 700 years. The Gallery's collection includes masterpieces by Leonardo da Vinci, Titian, Rembrandt and Van Gogh.
Benefits
Corporate Member benefits include:
The opportunity to hold private functions at the Gallery – entertain your guests in our picture galleries, surrounded by exquisite works of art
Behind-the-scenes conservation visits 
Invitations to exhibition openings and previews
Special access to the collections and all major exhibitions
Discounts on merchandise
The Corporate Membership programme provides a vital source of unrestricted income which each year helps the Gallery to fund programmes across all areas of activity.
Contact us
To enquire about joining our Corporate Membership programme, please contact Phoebe Rouse on 0207 747 5871 or email development@ng-london.org.uk
Download

Corporate Membership Pack [PDF 1.9mb – opens in a new window]

View the list of current Corporate Members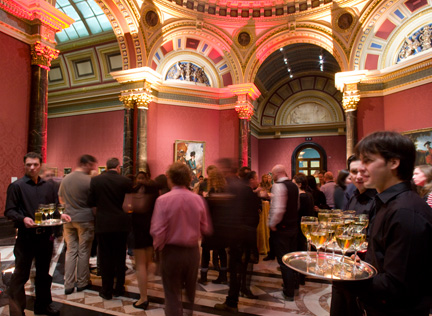 ---

Problems opening files? Get Adobe Reader [External link]