Present
Financial statements to 31 March 2015
Government Grant in Aid remains the Gallery's principal source of funds. For the year ended 31 March 2015, the amount allocated for running costs was £21.2m. There was an additional grant of £4.7m restricted to expenditure on capital, including ongoing essential capital repairs, which for 2014–15 included an extraordinary grant of £0.9m.

The Gallery has faced significant and sustained cuts to Grant in Aid over recent years, which has made private income even more critical to the future well-being of the Gallery. We await the outcome of the forthcoming government spending review, but do so expecting further reductions in funding allocations for the next three to five years. Membership, donations and support from the corporate sector, trusts and foundations, and private individuals are vitally important for the continued success of the Gallery's programme of exhibitions, education programmes and outreach work.

Total incoming resources this year, including donations for acquisitions of £3.0m, were £42.1m compared with £51.9m in 2013/14. The high level of income in 2013/14 was largely attributable to a grant of £15.5m to purchase George Bellows's Men of the Docks. Self-generated income excluding donations totalled £9.0m, significantly higher than the £5.0m recorded in 2013/14, as a result of the extremely successful exhibition Rembrandt: The Late Works and the launch of a new membership scheme.

The Gallery's total charitable expenditure of £36.6m for 2014/15 saw an increase against the previous year (2013/14: £33.3m), due in part to the cost of setting up the new membership scheme and additional costs relating to the collection. The Gallery continues to exercise tight budgetary control and implemented a number of efficiency measures during the year in response to the reduction in public funding.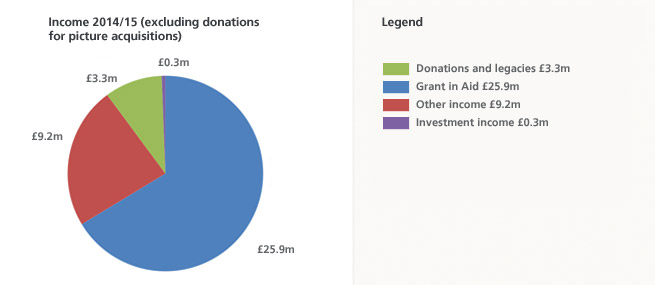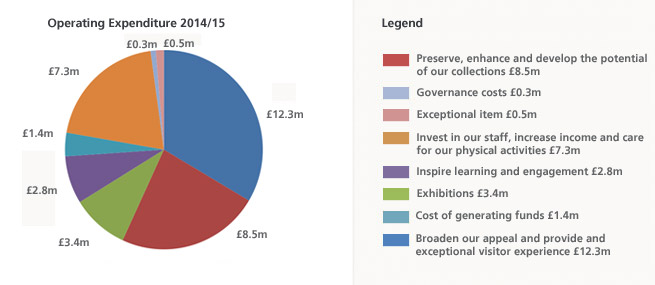 Related documents

Financial Statements 2014–15 [PDF 2mb – opens in a new window]
The 'Financial Statements 2014–15' are published by TSO (The Stationery Office) and available from:
Online: www.tsoshop.co.uk [External link]
Mail: TSO, PO Box 29, Norwich NR3 1GN
Telephone: +44 (0)333 200 2425
Email: customer.services@tso.co.uk
Fax: 0870 600 5533
Textphone: +44 (0)333 202 5077
Read about National Gallery finances 2008–14
---

Problems opening files? Get Adobe Reader [External link]