Public Engagement
Communications
The Marketing team plans and implements advertising campaigns to raise awareness of the Gallery, its collection and activities.
The Press team is responsible for managing the Gallery's profile through the media.
Read our latest press releases
Design
The Design team develops publicity and advertising material for the Gallery as well as working on the installation of temporary exhibitions.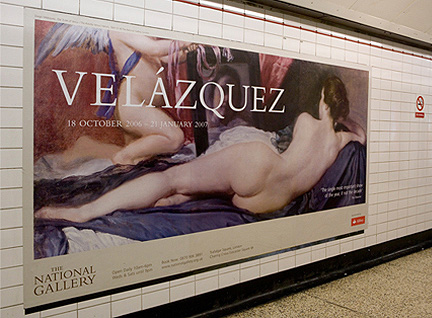 Digital Media
The Digital Media team develops and maintains the Gallery's various multimedia resources, including the website, ArtStart, interactive facilities around the Gallery, videos, plasma screens and audio guide tours. 

Audio guide management is also a responsibility of the Department, as well as the production of the monthly Podcast, one-off Podcasts and audio guide downloads.
Education
A wide variety of services is provided for adults, families and school children, including lectures, guided tours, study days to complement exhibitions, short talks, short courses and workshops, holiday activities and continuing professional development courses for primary and secondary school teachers.

The department runs an extensive outreach programme of talks and workshops.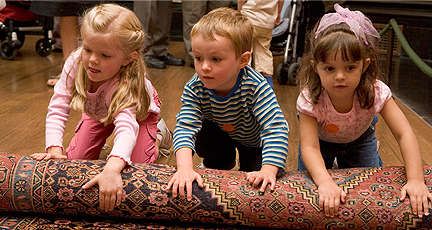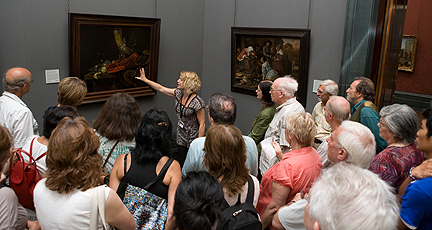 Exhibitions
This department organises and mounts temporary exhibitions, working with the curatorial team to plan and co-ordinate exhibition programmes and, with the Design Department, on the installation of exhibitions.
Front of House
Front of House are responsible for ticketing for events and exhibitions and management of the theatre and conference rooms.
Information
The Information Department is often the first point of contact for visitors, offering help, advice and information on all aspects of the Gallery, whether navigating the building, exploring the collection or finding out about our extensive range of exhibitions, events and activities. Information staff field enquiries in person, in writing, by telephone and via social media, seeking to enhance our visitor's knowledge, appreciation and experience of the Gallery and its collection.
Research Centre
The National Gallery Research Centre supports the Gallery's research strategy and ensures that its research resources are made available to the widest possible audience, including both national and international visitors and digital users, as well as Gallery staff.
It has primary responsibility for managing, conserving and providing access to the Gallery's library and archive collections. Additionally, Research Centre staff are engaged in planning and supporting academic programmes, including seminars, colloquia, study days and conferences, as well as working closely with research-active staff across the Gallery, academic partners and collaborators.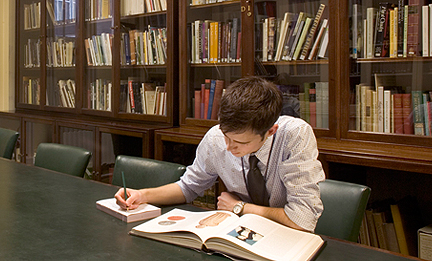 Find out more about the National Gallery Research Centre
National Programmes
We work in partnership and collaboration with museums and institutions throughout the UK to support public learning and enjoyment for all levels and ages. National Programmes manages the Subject Specialist Network for European Painting pre–1900 as well as the Art Fund Curatorial Traineeships.