Collections
Art Handling
The Art Handling Department is responsible for the safe handling, movement and display of the collection and of loans to exhibitions.
Conservation
Conservators' main activities are cleaning, restoration, research, contributing to scholarly and exhibition catalogues, and ensuring that pictures lent and borrowed by the Gallery are in a sound state.
Curatorial
Each curator is responsible for the care, display, cataloguing and general educational presentation of the group of paintings in their care.
They also advise on loans and acquisitions and help to organise exhibitions. (The paintings are divided between curators according to national school and also by period.)
Framing
Staff in the Framing Department restore original frames, acquire suitable period frames and design and make new ones.

Photography and Imaging
Photography and Imaging undertakes a wide range of photography of the collection, building, events, people and any subject required in support of the Gallery's wider strategic objectives. 

Staff make technical images of paintings using techniques including x-ray, ultra-violet and raking light, digitizing and image-processing the results for conservation and for research. 

A key responsibility is to catalogue and preserve the Gallery's photographic assets, which are housed in an environmentally-controlled purpose-built archive. The core aim of Photography and Imaging is to maintain and make widely accessible the photographic assets of the Gallery, to capture photographic and radiographic images to the highest standards possible and to keep up to date with new technologies and methods in the field.
Scientific
Scientists at the Gallery are research-active staff who investigate the materials and techniques of paintings in the collection by examination and analysis, advise Conservation and work with Curators on the technical history of European Old master paintings.

The Department advises on safe environmental conditions in the building and for pictures travelling on loan, new lighting installation and energy-reducing measures. Research is also conducted into new imaging methods and digital archiving for works of art, as well as digital methods of technical data capture and integration.

The annual National Gallery Technical Bulletin is edited by the Director of Science.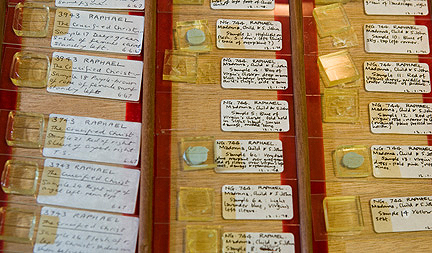 Further Information

Caring for the paintings
Read more about the work of conservators at the Gallery
National Gallery Technical Bulletin
The latest research by curators, scientists and conservators