Finance and Operations
Audio Visual
The Audio Visual team provides audio visual support throughout the Gallery for all events ranging from staff meetings, Education lectures and film screenings, to corporate AGM's and complex conferences.
Building and Facilities
The Building Department maintains the buildings, including the air conditioning and lighting, supervises improvement and refurbishment schemes, and is responsible for cleaning, general purchasing, telecommunications and general office services including computers, stationery and porterage.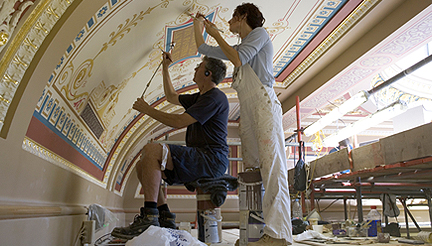 Finance, Planning and Performance
The Finance Department deals with the accounting of private and public funds, budgetary systems, banking arrangements and payments. 

Read more about Finance at the Gallery
Human Resources
Human Resources are responsible for the Gallery's policies for the recruitment, development and management of its staff, including advertising and recruiting, training, pay, conditions of service, pensions and welfare.
Information Systems and Project Management
The Information Systems (IS) Department performs four main functions: it ensures smooth operation of all computing facilities including photocopiers and communication equipment; ensures the security of Gallery information assets; develops/procures new Information Systems as required; and leads development of the Gallery Information Strategy.
Visitor Services and Security
The Visitor Services and Security Department includes the Gallery Assistants and Security staff. This is the largest department in the Gallery and is responsible for providing a welcoming, safe and secure environment for visitors. Gallery Assistants and Security manage all aspects of the security of the building and the Collection.

In addition to security, Gallery Assistants provide visitor services in the galleries.
Contracting and Procurement
The Contracting and Procurement team supports the National Gallery in maximising value for money from its commercial arrangements with external suppliers and contractors. The team offers the Gallery both strategic and practical advice in terms of procurement, contracts and contract management.